After passing the entrance gates of Petra, you go through the Siq- the main road that leads to the city of Petra itself. It is a rock canal that measures 160 meters in length, 3 to 12 meters in width and reaches up to 80 meters in height. The main part of the Siq is created by natural rock formation and the rest was carved by the Nabataeans. As you reach the end of the Siq you will see the Treasury peaking though the narrow canyon walls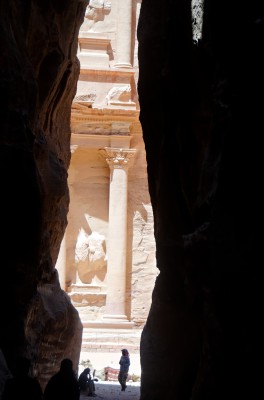 The siq opens up onto Petra's most magnificent façade; the Treasury, or Al Khazna. It is almost 40 meters high and intricately decorated with Corinthian capitals, friezes, figures and more. The Treasury is crowned by a funerary urn, which according to local legend conceals a pharaoh's treasure. Although the original function is still a mystery, The Treasury was probably constructed in the 1st century BC. The Treasury consists of two floors with a width of 25.30 meters and a height of 39.1 meters.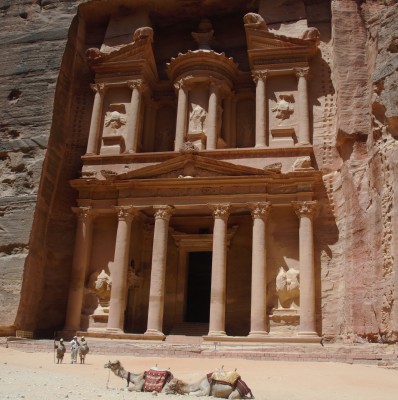 Petra is also called the Rose City due to the color of the stone out of which it is carved. This close up a section of wall shows why.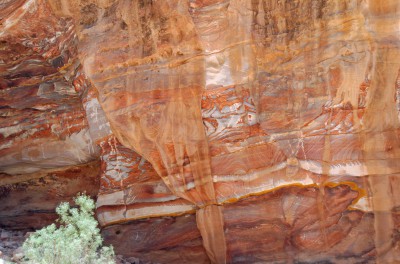 There is more to Petra than the Treasury, spend the day walking it's ancient pathways and explore a whole city, seemingly frozen in time.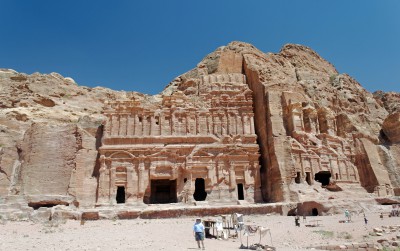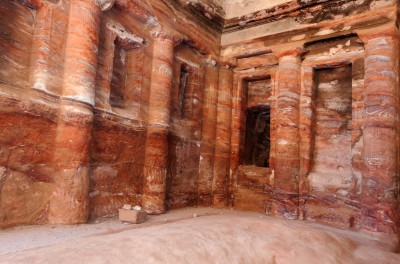 Don't neglect to take the paths above the city too; note the pathways carved into the rocky hills, showing how the people got around, and perhaps accessed the rock when creating the city.